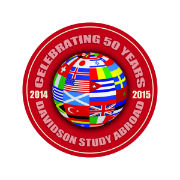 Education abroad is an invaluable opportunity that supplements the Davidson undergraduate experience. Students have the opportunity to choose from several Davidson sponsored programs and from over 100 academic programs that are operated by partner providers around the world. Each year, well over half of our graduating class studies abroad for a year, semester or summer.
Please click on
Application Process
if you are considering study abroad in the near future.
The study abroad applications for
Summer 2020, Fall 2020 and Academic Year 2020-21
are now open.
The application deadline for each of these terms is
February 1st, 2020
.
All prospective study abroad students are encouraged to
Schedule an Appointment
with an education abroad adviser. If you only have a brief (5-10 minute) question,
walk-in advising
is available Monday through Thursday between 4:00-4:45 pm in the Office of Education Abroad in Duke Residence Hall.
---
The
Office of Study Abroad
is changing to the
Office of Education Abroad
in keeping with the field and in recognition of the wider breadth of international educational opportunities for students. Changes are underway on the webpage, and the term "study abroad" will still be searchable and applicable.
---
For the class of 2023 and future classes
, Davidson College will follow a home tuition policy for fall, spring, and academic year study abroad. Under this policy, students who study abroad with a partner program will pay to Davidson the College's study abroad and tuition fees, and the College will pay the partner program's tuition cost to that program (up to Davidson's tuition fee). Students will pay all other program costs, including a non-refundable deposit, directly to the partner program. This policy aligns Davidson's practices with many other U.S. colleges and universities.
2019 International Education Week Events