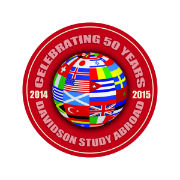 Education abroad is an invaluable opportunity that supplements the Davidson undergraduate experience. Students have the opportunity to choose from several Davidson sponsored programs and from over 100 academic programs that are operated by partner providers around the world. Each year, well over half of our graduating class studies abroad for a year, semester or summer.
ANNOUNCEMENTS FROM THE OFFICE OF EDUCATION ABROAD:
Website Updates
The Office of Education Abroad is currently making updates to the content and organization of our website, so users may notice changes while on the site and/or if they revisit. We apologize for any inconvenience. If you are having trouble finding any information, please email our office at

edabroad@davidson.edu

.
Scholarship Deadlines
Gilman Scholarship - March 2
Freeman Asia - March 30
Study Abroad Funding Policy
As announced on March 7, 2020, Davidson funds are prohibited from being used toward travel or projects/studies that involve travel when there is a CDC Level 2 or higher travel alert in effect. In addition, be aware that U.S. Department of State travel advisories restrict how federal aid may be used for study abroad programs. If a country has a Level 4 U.S. Department of State advisory, or there is a CDC level 2, 3 or 4 advisory in effect, Davidson-administered funds will not be applied towards fees for programs and other costs of attendance in that location. Should warnings and advisories be adjusted, so too will be the availability of funds administered by the college.
Welcome to our Virtual Office!
Since things are a bit different this semester and you cannot drop by our office, we invite you to click on the image below to visit our virtual office! You will be able to visit an adviser's office, schedule an appointment, find program options, and learn about credit transfer, financial aid and more.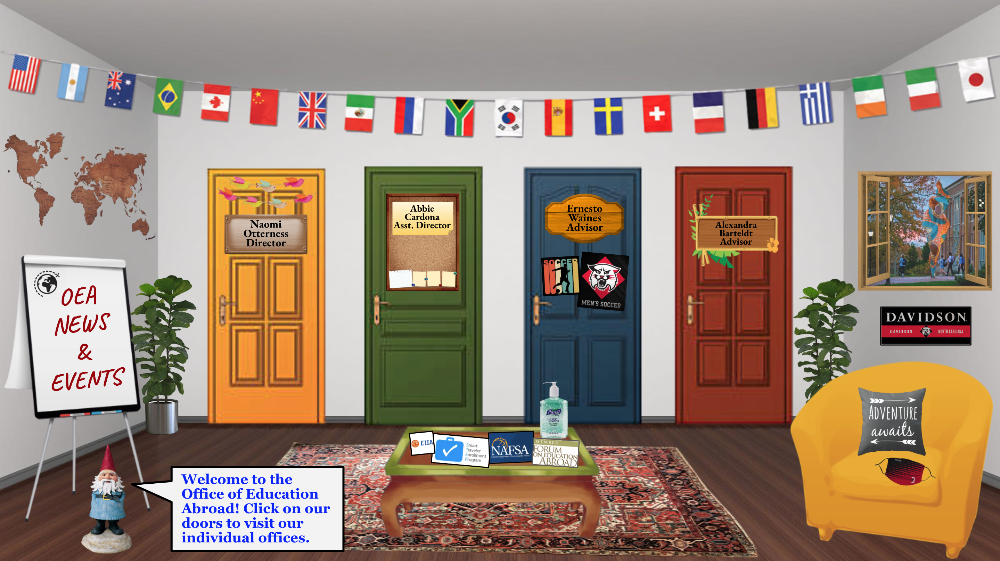 Davidson College Virtual Office of Education Abroad
Resources for the Latest News Regarding the COVID-19 Pandemic:
---
All prospective study abroad students are encouraged to
schedule an appointment
with an education abroad adviser. Walk-in advising has been suspended for the fall semester. However, if you have a quick question and would like to speak to someone in person during regular business hours, please call 704-894-2128 to see if an adviser is in the office and able to meet you at the entrance to Duke Residence Hall.
---
The
Office of Study Abroad
has changed to the
Office of Education Abroad
in keeping with the field and in recognition of the wider breadth of international educational opportunities for students. Changes are underway on the webpage, and the term "study abroad" will still be searchable and applicable.
---
For the class of 2023 and future classes
, Davidson College will follow a home tuition policy for fall, spring, and academic year study abroad. Under this policy, students who study abroad with a partner program will pay to Davidson the College's study abroad and tuition fees, and the College will pay the partner program's tuition cost to that program (up to Davidson's tuition fee). Students will pay all other program costs, including a non-refundable deposit, directly to the partner program. This policy aligns Davidson's practices with many other U.S. colleges and universities.