This page is the brochure for your selected program. You can view the provided information for this program on this page and click on the available buttons for additional options.
Davidson in Silicon Valley
San Francisco, United States
(Outgoing )
Program Terms:
Program Terms:
Spring

Fees and other costs (click on the term -->)
Spring

Dates / Deadlines: - unrelated header
Dates / Deadlines:
There are currently no active application cycles for this program.
Fact Sheet: - unrelated header
Fact Sheet:
Program Description:
Program Description:
Program Overview
Davidson helped create Adjacent Academies ("Adjacent")
to ensure that all liberal arts graduates have the skills, networks, and opportunities to shape
and lead in a world of rapid technological transformation. Adjacent recognizes that students benefit from more variety in tech pathways — you don't have to major in computer science to explore or play a role in the tech industry.

Adjacent offers one semester's worth of credit (including two distribution requirements), practical technical and interpersonal skill development, and unique mentoring, networking, and career development opportunities. At Adjacent you can:
Explore tech/tech's impact and what tech-related jobs and companies that might be a good fit for you through learning about and discussing issues in tech and through exposure to a range of companies, roles, and people.
Develop workplace-relevant technical and interpersonal skills to complement your education (did you know that employers feel that 65% of new hires lack the combination of technical and interpersonal skills to perform in the workplace?).
Create a portfolio of project work that will demonstrate your skills and interests to employers.
Expand your professional network and land quality mentors, internships, and jobs.
Experience a thriving innovation hub through living in San Francisco.
Interview for internships.
One semester at Adjacent will significantly boost your skills and knowledge, integrate personal and professional development, and shape and accelerate your post-graduation horizon.
You'll discuss challenging topics about the role of tech
in society as you receive valuable personal coaching on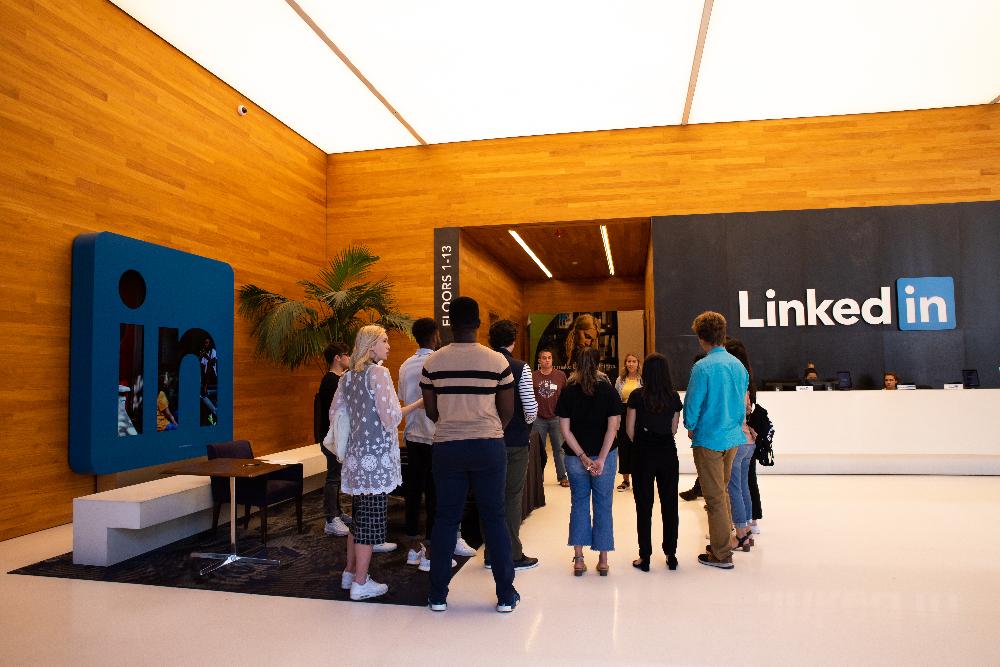 everything from your code to your ability
to present or be an effective team member. By the end of the program you'll be able to use code and analytical tools to tackle problems that you care about, solve problems more rigorously, articulate what tech-related roles and experiences might be a good fit for you, and effectively network in order to land the opportunities that you want. Our strong preference is that 100% of students line up a high quality summer internship while in this program; Adjacent will make introductions and interviews
available for all students.

No prior experience or course prerequisites necessary. Students with no background in tech are strongly encouraged to apply. Your tuition and financial aid cover the full cost of the program, which includes meals, housing, materials, and some local transportation. Students are expected to provide their own laptops. Please click on "Fees and Other Costs" toward the top of this page.
Academics
This is not a traditional classroom experience. Learning at Adjacent mirrors the workplace and is therefore not lecture-based — you will learn by doing alongside your peers, with the support of experienced technologists and educators, and with interaction and feedback from mentors and employees in diverse tech roles. You'll learn about and analyze tech at a macro level—the history of tech, the moral and ethical challenges of tech, the impact that tech has on communities — but also at the very micro level as you learn the fundamentals of web design and computational thinking and problem solving using software. Each day you will spend some time programming, building, and collaborating with your teammates and working on projects that you find interesting.
Courses and Credits
Pre-requisites: good academic standing, no computer science experience required.
DIG 245: Critical Web Design - P or F OR DIG 345 Advanced Critical Web Design - P or F
CSC 108: Explorations in Computer Science (counts towards Mathematical and Quantitative Thought requirement) - P or F OR CIS 108: Advanced Explorations in Computer Science (pre-requisites: CSC 108 or CSC 121) - P or F

ENG 296: Science Fiction and Tech (pending - in process of approval; counts towards JEC distribution requirement) - letter grade

CIS 125: Practicum

- P or F
Additional Program Highlights
Networking Events
Adjacent will host required networking events with local alums and employees with a variety of education and professional backgrounds.
Company Tours
Students will tour a range of technology companies and have a chance to ask questions of employees and to see how work is done.
City Events
Students will be invited to explore the many events, meetups, and hackathons happening all around the city. Students will have the evenings and weekends to experience all San Francisco has to offer, such as festivals, tourist sights, and local hikes.
What Participants Say
"I think it is a great way to learn something completely new in an amazing location, with great people and teachers. The program also focuses on more than just coding, it helps develop professional skills that we will need and use for the rest of our lives going forward." - Summer 2019 Student

"The program is very intense but already has taught me a lot about independence, productivity, and learning. This new style of learning is super effective: both self-guided and collaborative. Also, being in the city on my own presents a lot more responsibility that is different from the confines of a college." - Summer 2019 Student
Admission Requirements
Open to all Davidson students who are in good standing in all areas. For academics, "good standing" is defined in this case as having a 2.5 cumulative GPA or higher.

All students, regardless of major, are encouraged to apply and complete the interview process. The program seeks students interested in technology and who will be comfortable in and motivated by an intensive, highly collaborative, and self-motivated learning experience. Selection is competitive as a limited number of spots are available.
Application Instructions
To apply, you must complete an application through the Davidson portal (click the "Apply" button at the top of this page) AND through the Adjacent website. Additional details are available in the Davidson application portal.
Contact Information
Kristen Eshleman
Director of Innovation Initiatives


kreshleman@davidson.edu



Malena Harrang
Sr. Manager Operations, Adjacent Academies


malena@adjacentacademies.com
Access Statement
The college welcomes requests for accommodations related to disability and will grant those that are determined to be reasonable and maintain the integrity of a program or curriculum. To make such a request or to begin a conversation about a possible request, please contact the Office of Academic Access and Disability Resources, which is located in the Center for Teaching and Learning in the E.H. Little Library. It is best to submit accommodation requests as early as possible.

Beth Bleil, Director
Office of Academic Access and Disability Resources


bebleil@davidson.edu


704-894-2129

Alysen Beaty, Assistant Director
Office of Academic Access and Disability Resources


albeaty@davidson.edu


704-894-2939

Davidson College reserves the right to cancel or modify part or all of an off-campus program should changing circumstances make it necessary to do so.

Davidson admits qualified students without discrimination because of race, color, religion, national origin, age, handicap, gender, or sexual preference.